Our Partners
Mary MacKillop Today believes that collaboration is vital to creating sustainable and lasting change. We therefore partner with a number of local organisations and stakeholders within the countries where we work, to ensure change is locally driven and to build the strength of local actors in promoting positive change in their communities. Our partners, listed below, therefore play a vital role in achieving Mary MacKillop Today's mission.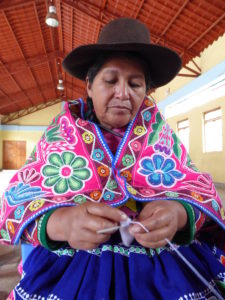 CCAIJO 
Project: Women's Livelihoods Project, Peru
Project: Vocational Training for Women and Young People in Rural Peru
CCAIJO is a not-for-profit founded by the Jesuits in Peru to promote justice and equity in the Cusco valley region. CCAIJO is dedicated to education and rural development, and provides training and technical support to vulnerable communities to generate changes in the vision and management of the development of the province of Quispicanchi and of the region of Cusco. Together with Mary MacKillop Today and our fair trade organisation, ethica, CCAIJO is helping to build new skills in rural communities, empowering women to be active in their local economy, participate in decision making, and build a more equitable future for other young women.
CEOP Ilo 
Project: Enhancing the Educational Environment for School Students in Rural Peru
Fe y Alegria 
Project: School Agriculture Project, Peru
Ola Fou Fiji 
Project: Women's Leadership, Fiji 
Ola Fou Fiji is part of a regional network of organisations committed to empowering young people to make positive contributions as citizens and custodians of their communities. Through their programs, Ola Fou Fiji seek to equip young people to be agents of change to transform, restore and build resilience in vulnerable communities. Mary MacKillop Today is partnering with Ola Fou Fiji to expand and deepen the impact of their work by developing the leadership capacity of young women in remote and underserviced communities.
Child Benefit 
Child Benefit was established to ensure all children realise their right to education, and develop skills early in life in order to reach their full potential. Their mission is to provide a child safe space in every community in Fiji, and provide support for parents that will in return benefit every child in the community. Mary MacKillop Today is partnering with Child Benefit to bring the joy and life-changing impact of early education to vulnerable communities living in informal settlements on the outskirts of Suva.
Callan Services National Unit (CSNU)