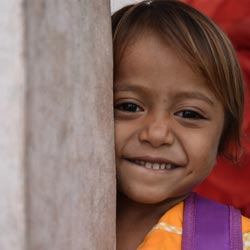 Through Mary MacKillop Today the vision of Australia's first Saint and of the Sisters of Saint Joseph, is being realised.
In the spirit of Mary MacKillop, we work in partnership to help create generational change through the teaching of practical life skills to women, men and children in Australia and beyond.
Mary MacKillop's influence in Australia today, and beyond, is palpable.
Dioceses celebrate her as their Patron; schools, aged care homes and ministries for the vulnerable proudly bear her name, and the work of the congregation she co-founded extends across the globe.
In 1867, her co-founder, Fr Julian Tenison Woods wrote that the Sisters were to: "Do all the good they can and never see an evil without trying how they may remedy it. … This is their mission… The religious must do any good that they can…and make their charity all-embracing."
It is in the spirit of that guiding principle that Mary MacKillop Today was born.
Our Mission
Guided by the Gospel, we stand with the marginalised poor, rural and remote peoples, in Australia and internationally, so they can realise their potential and participate fully in their communities. We seek to empower and transform lives through self-determination, access to education and the learning of practical life skills.
Our values
FAITH: Guided by the charism and spirituality of the Sisters of Saint Joseph of the Sacred Heart we are full of faith and hope in the Gospel teachings and in God's Providence, each other and humanity.
ACCOUNTABILITY: We take our responsibilities and partnerships seriously. Our decisions, actions, governance, transparency, integrity and trust can be relied on.
RESPECT: We respect the dignity of all, we bring light to the darkest corners of society, we are motivated by the needs of others.
EXCELLENCE: With our commitment to quality, we do what we do very well so those we serve can expect the best. We are committed to programs that demonstrably enact our mission, to evidence-based programming, sustainability and achievable outcomes.
Our approach
WOMEN AT THE HEART: Inspired by a woman and led by the Sisters of Saint Joseph, women are central to our story and the communities we serve.
EDUCATION FOR LIFE: Enabling access to education: traditional literacy and numeracy; broad skills for living; across the various stages of life. Through our education and life skills programs we develop essential skills for self-sufficiency.
REACHING THE MARGINS: We choose, like Mary MacKillop and Julian Tenison Woods, to be pioneering and brave, able to go where no one else will go and serving communities others may overlook.
DIGNITY THROUGH SELF DETERMINATION: We recognise the inherent dignity of all and therefore are committed in our programs and in our workplace culture to principles of subsidiarity and the common good.
PARTNERSHIP: We are committed to deep, genuine and accountable partnerships, shaped by co-responsibility, engagement and a shared commitment to real outcomes
Mary MacKillop Today is committed to respecting, protecting and promoting internationally recognised human rights for all, regardless of race, religion, ethnicity, indigeneity, disability, age, displacement, caste, gender, gender identity, sexuality, sexual orientation, poverty, class or socio-economic status.