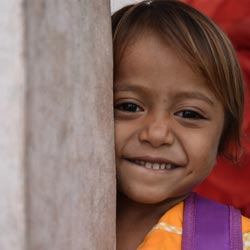 Through Mary MacKillop Today the vision of Australia's first Saint and of the Sisters of Saint Joseph, is being realised.
In the spirit of Mary MacKillop, we work in partnership to help create generational change through the teaching of practical life skills to women, men and children in Australia and beyond.
Mary MacKillop's influence in Australia today, and beyond, is palpable.
Dioceses celebrate her as their Patron; schools, aged care homes and ministries for the vulnerable proudly bear her name, and the work of the congregation she co-founded extends across the globe.
In 1867, her co-founder, Fr Julian Tenison Woods wrote that the Sisters were to: "Do all the good they can and never see an evil without trying how they may remedy it. … This is their mission… The religious must do any good that they can…and make their charity all-embracing."
It is in the spirit of that guiding principle that Mary MacKillop Today was born.
On 1 July 2018, three proud ministries – built on the legacy of Saint Mary MacKillop – merged to become one- Mary MacKillop Today.
* Mary MacKillop International: the international aid and development organisation of the Sisters of St Joseph, working in partnership with local communities to enable them to fully participate in society through projects that empower in the areas of education, health and livelihoods.
* Mary MacKillop Foundation: established by the Sisters to meet needs in a way that restores self-reliance and human dignity, through Grants to community-based projects and the delivery of Tertiary scholarships to Indigenous students
* The Josephite Foundation, an expression of the Sisters' commitment to financial inclusion through No Interest Loan Schemes and a low interest loans for low income earners.
Together, we are so much stronger, leaner and impactful.
And it was the Sisters, inspired by their foundress, who prayerfully considered and planned this historical merger to create Mary MacKillop Today.