Apply
APPLICATIONS ARE NOW

OPEN
APPLY BY 31 OCTOBER 2018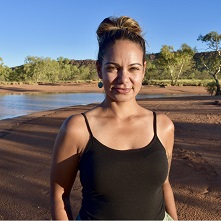 Our First Nations Tertiary Scholarships program provides financial support to students from disadvantaged backgrounds. This program works to address systemic barriers to education by increasing access to tertiary studies for Aboriginal and/or Torres Strait Islander students. This helps to ensure that Scholarship recipients can achieve a better quality of life for themselves, their families and their communities.
Mary MacKillop believed in the power of education to transform lives. In her legacy the Sisters of Saint Joseph have continued to empower individuals and communities by providing access to education. Since 1998 these tertiary scholarships for the First Nation Peoples of the lands in which we live have addressed the financial barriers faced by Aboriginal and Torres Strait Islander students and supported them to access and achieve their academic goals.
Activities
The Mary MacKillop Today First Nations Tertiary Scholarship includes:

$5,000 per year towards living expenses* associated with tertiary study for the duration of their course (in two yearly payments of $2,500).
*Living expenses include rent, electricity, utilities, stationery, books and IT costs. The amount of $5000 per year is based on full time enrolment in tertiary study. The number of scholarships awarded each year is variable.
Scholarship applications are now open.
HOW TO APPLY

There are three ways you can apply for a scholarship:
Complete the Scholarship Application Form which can be downloaded here and email to applications@marymackilloptoday.org.au. You must also attach the required supporting documents.
Visit the Indigenous Scholarships portal (www.indigenousscholarships.com.au), create a personal profile, search for the Mary MacKillop Today Scholarships, answer the questions and submit your application. All supporting documents must also be uploaded to the portal.
Video submission. Using your smartphone, create a video that answers the questions on the Scholarship Application Form. Please clearly state your name at the beginning of the video. Send your video, as well as page one of the application form and all supporting documents, to Mary MacKillop Today via DropBox. You must email the DropBox link to applications@marymackilloptoday.org.au.
Applications must be submitted by 5pm Wednesday 31st October 2018.
All applicants will receive notification of their scholarship outcome via email.
With thanks to our major partners The Sisters of Perpetual Adoration & Good Shepherd Australia New Zealand.