In the face of the social conflicts that Peru recently experienced, the need for education that promotes citizen and democratic values have become more evident.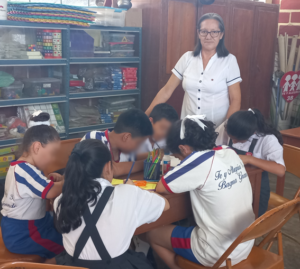 In that sense, our partner Fe y Alegria in collaboration with Mary MacKillop Today has designed the project "Student Leadership & Citizenship", which main objective is to provide a citizenship training program that develops socio-political capacities in students, teachers, and school administrators to generate an active citizenship committed to the local and global reality based on the pillars of Popular Education. This is an approach to education where participants engage each other and the educator as co-learners to critically reflect on the issues in their community and then take action to change them.
The project is designed to follow the school calendar, so the first six to eight months the activities were focused on collecting and gathering information to design the training program. Nonetheless, this financial year the project mange to have important achievements.
Key achievements for FY22-23
One Citizenship training program designed for school management members with two modules.

11

school management members enrolled in the citizenship training program.
One Citizenship training program for teachers with three modules.

75

teachers enrolled in the citizenship training program.
A methodological proposal that will be used as input on the National Seminar "Educating in Citizenship".
Marina, Assistant Principal of Primary Fe y Alegria …
"As educators, the school is an important space of citizenship of change. We take this training as an opportunity to empower ourselves in the citizen capacities and start the transformation from the school and from the spaces where we can make our children aware in the full citizenship formation, directly addressing all types of discrimination of race, gender, social class, and promoting an inclusive and intercultural environment".