Project Overview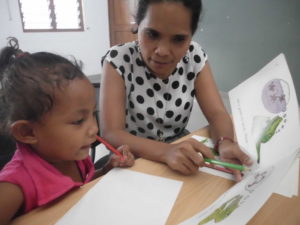 Ensuring children have quality education early in life is vital for their long-term development and ability to contribute to society. In order to achieve quality education early in life, it is integral that children are supported in the home as well as at school.  In Timor-Leste, particularly in the rural areas, most parents have limited knowledge and skills in literacy and numeracy and the majority of them did not have the opportunity for a high school education. They therefore struggle to provide the necessary support for their children and feel disempowered to play an active role in their child's education. To respond to this need, Mary MacKillop Today's Parents Program provides training for parents from remote areas so they can gain the skills and knowledge to be actively engaged in their children's learning at home, thereby improving early learning outcomes for children at school.
Activities
Conduct 10 weekly training sessions for parents on how to support their children's learning in the home using activities such as reading, writing, singing, craft and games.
School Visits conducted by parents at the end of the 10 sessions to learn about the importance of education and practice their new skills in the classroom.
Ongoing monitoring and mentoring throughout the year by a Field Officer based in their community.
Provision of a set of simple story-books and education games that parents can use in the home
Annual Impact
360 parents attend 10 workshops to learn a range of skills and activities they can use to support their children in the home in key learning areas such as literacy, numeracy, health, music, and art/craft.
Over 720 children benefit from receiving educational support in the home by their parents, contributing to their long-term learning outcomes.
Contribute to improving long-term educational outcomes in participating communities.
Francisca's Story
"As a mum I live with my children and my husband. I haven't attended any school since I was a child, so I didn't know what school was and how to read and write. I have learnt so many things during these parents workshops. I learnt how to write, how to read, how to paint and how to make handcraft. This workshop really inspires me to learn to read and to write. One special thing that I really learnt from the training was the lessons of child development and child protection. After these lessons I realised that I need to change some of my character to talk nicely to my children and I am never angry with them as I was before."
Stories from our blog:
How to help
Donate: $600 could allow one parent to attend 10 training sessions on how to support their children in the home.
Pray: Pray for the people of Timor that all parents may recognise the unique gifts they have to offer their children
Act: Become a Mary MacKillop Today parish ambassador and you can amplify the stories of teachers like Francisca