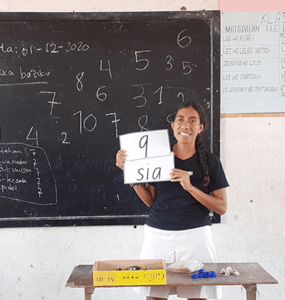 Education is a pathway out of poverty and key to restoring dignity through self-determination. Many parents wish to see their children accessing the education they need for a bright future. But for those parents who didn't have the opportunity to receive a quality education themselves, it is incredibly difficult to know how to support their children's learning.
Thanks to your support, parents like Ivana living in marginalised communities can access the education, training, and resources they need to be actively involved in their children's learning at home. Your generosity is helping families to achieve generational change. Parents are empowered to use their own skills and increased self-confidence to build a better future for their family.
24-year-old Ivana lives on a small island in Timor-Leste with her husband and 5-year-old son who is in pre-school. When Ivana shared her challenges in facilitating her son's learning at home, we were able to respond. Ivana joined our Parents Training program to build her own skills in basic education, such as literacy and numeracy, plus receive training to confidently engage her child in his home learning.
"I was really struggling to teach my son at home because I did not know the way to teach him. When I called him to study, he always ran away, and it made me feel so burdened.

Now I am happy because I attended training on literacy and numeracy with Mary Mackillop Today. We were provided books, posters, and stationery. This training encourages me to teach and help my child at home. I learn how to write letters, numbers, read a story, tell imagination story to my son, count numbers by using local materials, draw a picture, sing kids songs, and play games.

I used the skills that I have learnt and I teach my child at home every day now. He wants to follow what I am saying, and he is able to do what I tell him. All the difficulties I had are already solved.

This program helped me to realise my dream. In the future I would like to be a volunteer to teach in the pre-school. I would also like to help other parents in my village to learn how to read, counting, storytelling, sing a song and games." – Ivana, participant in Mary MacKillop Today's Parents Training Program.