Mary MacKillop Today recently hosted our second Partner Learning Forum in Fiji where representatives from our partner organisations in Fiji and Peru, came together with our staff from Timor-Leste and Australia.
What an incredible family of local partners we have! Ever since we started organising these forums in 2020, we've looked forward to these crucial events to strengthen our connections with partners, understand their work better, and encourage collaboration for the future. We also hold Peer Learning Webinars between forums to keep our partners engaged and connected.
"A good partnership is about being open. Open to sharing what we do know and what we don't know. This Partner Learning Forum is an opportunity for many of us to come together from different countries to share ideas and experiences."

– Gianfranco Dulanto, from ODP in Peru
This Partner Learning Forum focused on the theme of 'Towards Best Practice in Sustainability.' Over five days, participants engaged in a series of inspiring discussions and workshops. We explored topics like financial sustainability, strategic planning, working with governments, and measuring impact.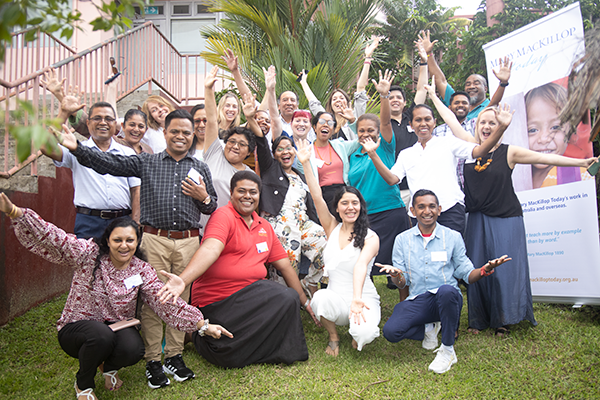 We also spent a day visiting our partner Ola Fou Fiji's project site for Project Talitha which provides women's leadership training. It was an important chance for the Forum participants to learn more about the local context and witness a program in action. The community shared the experiences of the young women involved in the leadership project and the initiatives they had in place.
"It's so important to have partnerships with organisations that have similar goals. We can share resources. I believe we can do much more by working together. We are a young organisation so we appreciate having a well-established organisation like Mary MacKillop Today to partner with. What I've learnt at this Partner Learning Forum is the importance of strategic planning and localisation."

– Tema Waqa from Ola Fou in Fiji
The Partner Learning Forum was a wonderful example of the power of working together for sustainable development — where local communities are empowered to stand on their own and build better futures for themselves. We're so thankful for this opportunity to build stronger relationships with our extraordinary partners, learn from each other, and work together for common goals.
Together, with you by our side, we are a growing force for change to create a better and more sustainable future where people flourish!