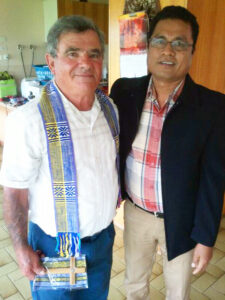 82-year-old John has lived a remarkable life, overcoming huge challenges and building a beautiful family with his wife, Dorothy.
Born in Malta, John is the eldest of 12 children. His father was in the Army and was badly injured when John was eight years old. With John's father in hospital, his mother needed to pull John out of school to help her at home. He had barely completed two years of primary school.
In 1954, John's family migrated to Australia where they lived with his father's sister who had seven children of her own.
"We lived in a place no bigger than a double garage. It was wall to wall beds. If you weren't on your bed, you had to be outside."
John picked up work in a factory where they made labels for clothing. But what he really wanted was to join the armed forces like his father.
"The recruiting officer asked me to fill in a form but I couldn't do it. I didn't know how to read or write. I realised I couldn't join unless I had an education."
Disheartened but not deterred, John went to his local YMCA where he found a man named David willing to teach him for what little he could afford.
"I'd sit with David for an hour every Saturday afternoon after work at the factory. He also gave me a pile of homework. I dedicated every spare minute I had to learning."
12 months later, John applied to join the Australian Navy. But disappointingly, he didn't pass the exam. That's when he began to invest even more in his education.
"Failing the exam felt like the end of the world. So, I also started going to lessons three nights a week. Six months later, I was finally admitted to the Navy at 21 years old."
John ended up serving 12 years in the Navy. He then came home to run a small farm with his family.
A few years later, he met the love of his life, Dorothy. John and Dorothy got married and, over the years, they welcomed sixteen children into their family through foster care and adoption.
Dorothy had many wonderful friendships with the Josephite Sisters. So, when John and Dorothy wanted to show their children how to care for those in need, they began donating the money they earned from rearing and selling calves to Mary MacKillop Today.
John, Dorothy and their children made so many memories together on the farm. It was a devastating time when Dorothy became ill with motor neurone disease, which eventually took her life.
"Dorothy always had a brave smile. I looked after her for the last four years of her life until she went to God. It really was heartbreaking. Dorothy was a beautiful woman in every way."
John decided to remember Dorothy and her big heart by including a gift to Mary MacKillop Today in his Will, so Dorothy's compassion can live on to help more people in need.
"I'd like to think I'm honouring my wife's wishes. Dorothy felt a special connection with Mary MacKillop. If she had her life over again, she would be some sort of missionary worker — out there making sure kids are cared for and loved. That was her.

There's joy in this for me too. My time in the Navy kept me in touch with the human side of life — being on the ground amongst the people. It's so important to be part of Mary MacKillop Today's work and it can't happen without support."
What an incredible story of determination! In his early life, John overcame enormous challenges to pursue an education and achieve his dreams. And together with his beautiful wife Dorothy, they built a life serving others with such inspiring compassion. Thank you, John, for your incredibly kind gesture!
If you'd like to include a gift to Mary MacKillop Today in your Will, just like John, please contact April on 02 8912 2720.