Dear friend,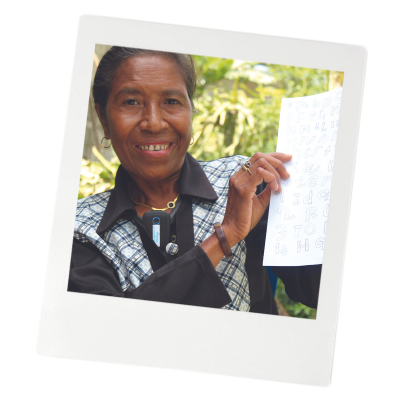 My name is Herminia.
I am a widow, a mother of six children and a grandmother of thirteen grandchildren.
I live in a remote village in Timor-Leste with my son, daughter-in-law, and four of my grandchildren.
My grandchildren call me "Avo Mina" which means "Grandma Mina". It makes me happy!
I am determined to provide my children and grandchildren with the chance to learn that I did not have growing up.
When I was a child and I asked to go to school, my parents said, "No money. The boys can go to school. The girls stay home."
So, I worked to support my brothers' education.
But my life has changed, thanks to the Parents Training from Mary MacKillop Today.
Before joining this training, I didn't know how to read or write. Not even the alphabet or the numbers 1, 2, 3.
Now I am going to school! I am learning to read and write, Our classes start with a prayer, and then we learn to write, sing, and draw.
With the training from Mary MacKillop Today, I know important things that I didn't know before.
Until now, I used to go to the shops, and I couldn't read the price of goods. And when I needed to sign documents, I couldn't do it. I had to ask for ink to sign by finger press. But now, I can sign my own name! I can go to the bank on my own.
Every day, I use the books I received from training to teach my young grandchildren at home. I can teach them letters and numbers. And I teach them to be kind.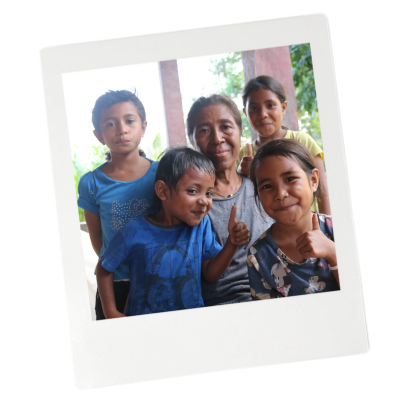 I want my grandchildren to have a better future.
Timor-Leste has changed, and I want them to change too through education.
Thank you for your generosity and the opportunity you have given me to have an education.
Now, I will help pass on this knowledge to my grandchildren. They will grow up learning!
This Christmas, I am looking forward to inviting family and friends to our home, gathering around the Christmas tree, frying banana, making coffee and eating lunch together.
And I look forward to the new year. My hope is for positive change in my country. For new attitudes.
Most of all, I hope for a new heart for our children to give them the the opportunities I could not have.
That is why I thank you, the kind supporters of Mary MacKillop Today.
I wish you peace, love and hope this Christmas.


Herminia, "Avo Mina"
[translated]