Traditional Fijian community structures often do not allow for women to play an active role in decision-making, particularly in rural areas. In partnership with local organisation, Ola Fou Fiji, our Women's Leadership program, Project Talitha, aims to empower young women to be agents of change within their community. The program targets young women in the North, West and Central provinces of Fiji and is implemented by graduates of Ola Fou's successful and long-running Youth Work program.
Women in participating communities are invited to join a series of training workshops delivered in partnership with local government and non-government organisations. The training focuses on building skills in leadership, mentoring and financial literacy – with a particular focus placed on the 'leader within.' This program builds the confidence of young women to raise their voice in community decisions.
Hear Kini's story!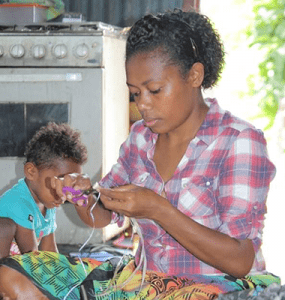 Kini is a young woman living in Fiji. She married young, has two children and is unemployed with no way to support herself independently. She experiences challenges in her marriage and finds herself moving from house to house seeking support from others in her community.
When Kini joined our Women's Leadership training, she learnt many crucial things – from knowing her rights to new skills like sewing, screen printing, and making bags and baskets from "voivoi" and "masi" (pandanus leaves and tapa made from the bark of trees).
Since participating in Human Rights training, she now is fully aware of her rights and the services available for her to access when she needs help. This has opened up new pathways for Kini towards a brighter future.
Kini has gained confidence through the training. She is now able to speak out and express her feelings. As a result of this, she decided to go for counselling. It was with the support of her counsellor that she could feel relief from the burdens and challenges she was going through. She shared how she now feels motivated to move on with life for the sake of her two children.
Today, Kini continues to grow in confidence and independence. She has started her own business where she makes traditional handicrafts including "salusalu" or traditional garlands, bags and baskets together with screen printed sulus. Her customer orders are coming in from as far away as the hotels on Malolo Island. She has also started to sell her handicrafts at a monthly market day at the local Vuda Marina.
The young determined Kini didn't stop there. She is now also the vice president of her local women's club!
We are thrilled to share uplifting stories of empowering change – just like Kini's. Your support makes these transformations possible!