Education is one of the best investments a country can make to alleviate poverty. Through her time working with communities around the world, Mary MacKillop Today's CEO, Jane Woolford, has come to deeply appreciate the relationship between education and poverty. Jane shares why she believes 'Education for Life' is important.
"So often, children miss out on education because of poverty. When families are in hardship, it means their access to learning is compromised. That affects their ability to live a full, healthy life. Schooling is an opportunity to build skills, capabilities, wellbeing, and confidence. Missing out on school puts a person's chance of later gaining employment at risk. They won't be job-ready or money-wise.

The theme 'Education for Life' is about enabling access to education throughout the various stages of life. As humans, we never stop learning. To ignite a passion in the earliest years means opening windows to the world. This early learning builds our own strengths so we can contribute to our community and develop compassion to help others. I think of Mary MacKillop's words – 'Find happiness in making others happy.'"
Like Saint Mary MacKillop, Jane spent time as an educator in the classroom – teaching English at a secondary school in Western Sydney. She shared what a privilege it was to teach and build connections with students.
"Teaching showed me that the greatest impact you have is not necessarily the marks on paper – it's the stimulation and inspiration you provide around learning. It was exciting to see my students building a vision of their place in the world."
Having firsthand experience in teaching, Jane has come to see the areas of significant need for education – both in Australia and overseas.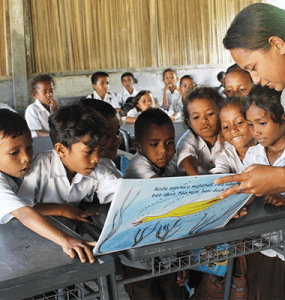 "I think back to the first time I arrived in Timor Leste in 2001 to help rebuild communities after the conflict. I saw schools burnt down. The Sisters of St Joseph were there helping people to support the education system. Timor Leste has come a long way but there's still significant need – so I'm grateful to still be involved in developing literacy and life skills with young people, parents, and teachers in their own Tetun language. In the later stages of life as adults, education remains important.
I see increased vulnerability levels where people face a lack of literacy skills, even here in Australia. There's a real need for training in life skills. That's why, for example, Mary MacKillop Today is running workshops in budgeting and financial literacy in Central Western NSW to give people economic independence and escape cycles of growing debt."
Saint Mary MacKillop was a teacher and saw education as a pathway out of poverty. Supporters like you are helping to carry on her legacy. It is the generosity and compassion of supporters that makes our Education for Life programs possible around the world. Thank you for your support, especially during this time of increased vulnerability due to the pandemic.