In Fiji, people from remote islands often come to the city in search of work and end up living in informal 'squatter' settlements — where homes are built using whatever materials can be found. In these communities, many young children go without access to quality education.
We spoke with Kata, whose family owns the land in one of the settlements that our Mobile Kindy is run from with local partner Child Benefit Fiji. Kata told us about her son who passed away and how, during his life, he was passionate about using their land to provide the local children with a place to learn.
Kata shared: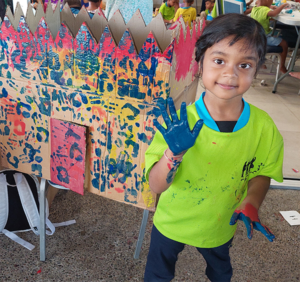 "He wanted to keep the children all together. That's why we built up this kindergarten. I think the school means a lot. He has left a good thing for us to continue on now — myself and my grandchildren.

These families are coming from all parts of Fiji, mostly islanders. Some come to look for jobs or education in Suva. But they have nowhere to stay. They are 'bunking'. It's hard… If our school wasn't here, some children would have to travel by bus or walk far to learn. They are much happier having us close by.

I listen to what our teachers are teaching. I think what we have now is really helpful. It will be much, much easier for the children to get into school after coming here."
As Kata explained, the young children who come to our Mobile Kindy classes are receiving the education support they need now, at an early age, to help them transition into formal schooling later.
We also had the chance to speak with Kata's granddaughter, Tupou, who volunteers at the kindy and is training as a teacher. Tupou told us,
"I have learnt so many things about children. The ways that we can deal with them when they are at such an absorbent age. I have learnt about the way they learn things through play. I really love this school because it goes deeper. I count myself blessed to be part of this school."
Thank you for your support to provide early childhood education to children in vulnerable situations. Because of you, young children can join community play groups where they can thrive in a positive learning environment, and community volunteers can participate in teacher training workshops. You are also helping to equip parents with new skills to nurture their children's learning and development. Through your generosity and the dedicated community work of Child Benefit Fiji, families in Fiji can overcome the challenges they face and provide positive futures for their children to flourish.