We had the honour of speaking with Sr Maria Sullivan and Tess Mulveney from the Josephite Refugee Mentor Support Project (JRMSP) who shared how Mary MacKillop Today's partnership through Community Grants is impacting the emerging South Sudanese community in Australia.
The JRMSP supports people who are new to Australia to gain access to education. Mentors are matched with students of refugee backgrounds who are transitioning from school to tertiary study. As well as mentoring support, young people can also receive financial support through the JRMSP to help pay for study expenses, like a computer or textbooks.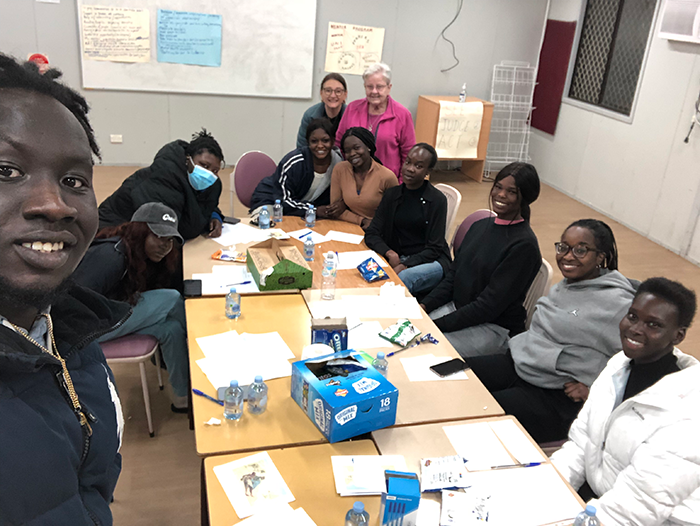 Sr Maria has been working with new Australians from South Sudan for the past 23 years. She explained, "The request for help came from the South Sudanese community, because so many of their young people were doing well in school – but when they left school, they would fall off the bridge."
Tess added, "In a war-torn country where food is scarce, education is not high on the priority list. For these young people coming to Australia from South Sudan, they're often the first in their family to receive an education. And the refugee experience is particularly difficult for people who come with no education background. Our program is about providing the support of an Australian adult to stand beside a young person and believe in them."
"The members of the JRMSP have changed my life and future for the better! During university, I was provided a mentor who supported both my academic and personal development. There were many times we had coffee discussing how to manage the demands of a full-time degree including time management skills, organisational skills, and stress management. Skills which I continue to use today. I was fortunate to receive financial aid which allowed me to purchase my first laptop."


– Adau, studying to become a Clinical Psychologist
Tess is one of the original mentors from 2018 when MMT first provided a Community Grant to help start the program with 7 students and 7 mentors. Today, the JRMSP has more than 80 students and 50 mentors involved.
Often, the biggest issues for people who were not born in Australia are access and agency. The one-on-one mentoring provides young people with practical and meaningful support during the crucial stage between finishing school and stepping into life as an independent adult. That might be helping a young person to fill out the complex enrolment forms for university — so they're not shut out because of administration barriers. A mentor is also someone a young person can speak to about their options to gain a sense of control over their future — especially if they don't have other people in their network who have walked this path of education before them.
Tess shared, "Having MMT behind us gave us some 'gravitas' and allowed us to create a community of positive role models. The South Sudanese community can feel like they have something tangible to benefit from."
Sr Maria told us with tears in her eyes, "It is a privilege to be allowed to be immersed into these communities. Our partnership with MMT represents the future of what the Sisters have been doing for so many years with emerging communities – since the schools that were set up in the bush where no one else would go. Our mentors show that same passion to change lives through education."
"Having a mentor who supports and encourages me throughout my academic journey has improved my university experience. My mentor has helped with many of my assignments through understanding and breaking down a topic question, researching articles and also proof reading. It's so reassuring to know that I am not alone in my academic journey and I will always have the support of the mentor program and my mentor."


– Adut, studying a double degree in Criminal and Community Justice and Law
Thank you for your generosity to keep our Community Grants program alive so we can partner with incredible initiatives like the JRMSP!