For a person facing financing hardship in a rural or regional area with limited public transport, access to a reliable vehicle to get to and from job interviews or work can be life-changing. For many people on low incomes, however, saving enough money to buy a second-hand car is difficult. Other financial barriers can also make it hard for some people to access personal car loans.
Recognising how essential a reliable vehicle can be for employment, particularly in regional areas, we have expanded our Financial Inclusion Program to now include interest-free loans for vehicles.
Similar to the long-running No Interest Loans Scheme (NILS) for household items and services, we are partnering with Good Shepherd Australia New Zealand to offer NILS4Vehicles from our offices in the Central West of NSW.
Eligible recipients in need of assistance to purchase a vehicle can receive a loan of between $2,000 and $5,000 to be paid off over a 48-month period.
The loans are designed to give those on low incomes the opportunity to more easily purchase a safe and reliable vehicle that may be required for employment or to help them get to and from job interviews. Our staff help applicants to develop a budget and repayment plan to ensure the loan does not cause financial stress.
Thanks to support from donors, we also offer loan recipients access to our literacy programs so they can learn skills to better manage their finances and break the cycle of poverty long term.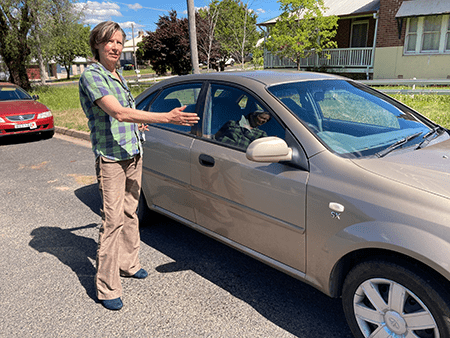 Peta is a recent recipient of a NILS4Vehicles loan. She came to Mary MacKillop Today because there was no other borrowing option available to her.
"I am very grateful to Mary Mackillop Today for the NILS4Vehicles loan. It provided me with the reliable, safe transport required to secure employment. There was no other reasonable way of getting a loan on my low income. Thank you for the support and trust in my ability," said Peta, NILS4Vehicles recipient.
Mary MacKillop Today has been supporting Australian families facing financial hardship in the Central West of NSW since 1999. Through a partnership with Good Shepherd Australia New Zealand, our Financial Inclusion Program has provided no interest loans to help people on low incomes have access to safe, affordable, fee-free and interest-free credit to pay for essential goods and services. In 2020-21, 1,087 no interest loans ($1.137m) were provided to people in financial hardship through the Financial Inclusion Program.
For more information on NILS or VILS4Vehicles, visit our website loansmarymackilloptoday.org.au.