"I'm the first in my family to go to university."
Bridie is a proud Wiradjuri woman from Bateman's Bay on the New South Wales far south coast. Since 2017, she's been part of Mary MacKillop Today's First Nations Scholarship program, receiving financial assistance and support from a mentor to help her complete her tertiary studies.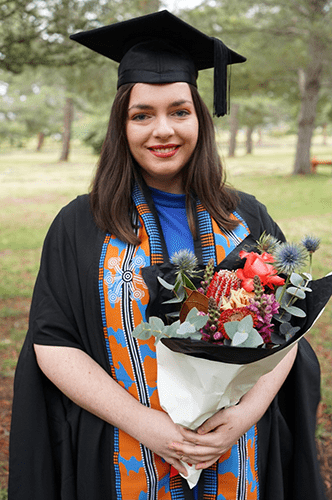 A self-confessed science nerd and fan of TV's Star Trek, Bridie always wanted to go to university to become a scientist. However, growing up in a single parent family with three brothers, she knew attending university would be tough.
"My mum is a single mother of four children. I needed a scholarship to be able to afford to come to university. When I was accepted, it was heartbreaking for my mum to look at me with sadness and say, 'I don't think you can go. I'm sorry but I don't have the money'."
With the rate of drop-out for Indigenous students far higher than non-Indigenous students, the odds of Bridie completing her degree were also against her.
However, a First Nations Scholarship from Mary MacKillop Today has provided financial assistance and support to help Bridie reach her goal. In 2020, Bridie graduated with a Bachelor of Human Biology and Biomedical Science and was accepted into Honours. With six months left in her Honours degree, she is now considering opportunities to pursue post-graduate research in Indigenous health and genomics, where she hopes to make a difference for future generations.
As the first in her family to attend and graduate university, Bridie also hopes she is setting a positive example for other young Indigenous peoples, like her nephews.
"When we look at the statistics about Indigenous peoples going to university, compared to non-Indigenous people, there's a humongous gap. There's also a humongous gap between the rate of drop-outs with Indigenous students and non-Indigenous students," Bridie explains.

"Having these types of scholarships enables people like me to go to university. It also enables us to make sure that we stay at university. It's really bridging that gap between Indigenous and non-Indigenous students."
For Bridie, the First Nations Scholarship has given her financial assistance to help cover the cost of her rent and other basic necessities to make university more manageable. Bridie was also able to use the scholarship money to attend an inspiring First Nations Health Conference in Darwin. Being linked to a mentor who has offered support with navigating university and tertiary education has also helped Bridie.
"The scholarship has been a big help. I really don't know how I would have been able to support myself for all these years. It has allowed me to continue studying what I love, and to be successful.

"I want to say a big thank you to Mary MacKillop Today supporters. I want to tell them that I really appreciate them, and that their money is making a huge difference to Indigenous peoples by enabling us to go to university.

"I'm the first in my family to go to university. I have five nephews and I really want to show them that they can also go to university and do whatever they want to."