At Mary MacKillop Today, we love books and all things education!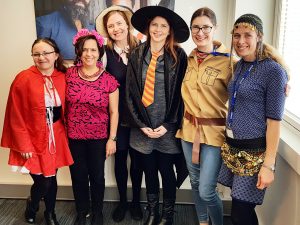 Today, our staff took the opportunity to celebrate Book Week 2018 with a dress up day! Can you guess who we are?
We believe education is a gift and treasure, and we took this opportunity to reflect on the immense power of education to transform lives. Mary's focus was always about education of the poor and the ability to read was a crucial part of her dream.
Each day, we're surrounded by incredible women, men, children, families, and communities, who, in partnership with Mary MacKillop Today, work to ensure children and families receive quality education in safe, effective and inclusive learning environments, both at school or university and at home.
Being unable to read, write or access learning programs can be socially isolating, and we work to provide access to education and learning of practical life skills to transform lives with dignity for self-determination.
Between 2017/18, some of our achievements include:
Provided literacy training for 281 teachers in Timor-Leste
Distributed over 35,000 Tetum Literacy resources to teachers and parents in Timor-Leste via our training program and Mobile Learning Centre
Supported 93 First Nations Scholars and celebrated over 100 graduates through our Scholarships program
Engaged 98 school Principals and 297 teachers in Peru through the School Peace Program
Worked in partnerships with many other organisations and groups to provide quality education programs.
Education is more than learning to read and write; it is one of the most vital investments a nation can make in its people. As well as being a fundamental human right, it is a well-known fact that education is a powerful driver of development, allowing individuals to reach their full potential and contribute positively to society.
"Education is one of the most vital investments a nation can make in its people."
Thanks to our supporters and partners, the vision of Australia's first Saint and of the Sisters of Saint Joseph is being realised. Together, we're helping to create generational change through the teaching of practical life skills to women, men and children in Australia and beyond.
How to help
Donate:  We appreciate any and all donations. To help you decide a value: $1,500 contributes to one First Nations scholar's living expenses per semester. $5,000 is the average course fees annually.
Pray: Pray for the people of Timor-Leste that they may know the joy of learning and recognise the unique gifts that they can offer to others.
Act: Ask your school to become involved in Mary MacKillop Today by contacting our Global Education Officer for ideas, via 

[email protected]

 or (02) 8912 2777.
*From left to right: Belinda aka Diaries of Cleopatra, Gina aka Frida Kahlo, Emma aka Hermione from Harry Potter, Sophie aka Madeline, Emily aka Steve Irwin Biography, Julie aka Little Red Riding Hood.