CEO Jane Woolford shares how the work of Mary MacKillop Today is built on honouring dignity through self-determination.
Being worthy of respect – from yourself and from others – is inherent to every person. I know Saint Mary MacKillop believed this too, and that's why she worked so hard to reach marginalised communities. Dignity cannot be given or taken away. But poverty can make a person feel powerless.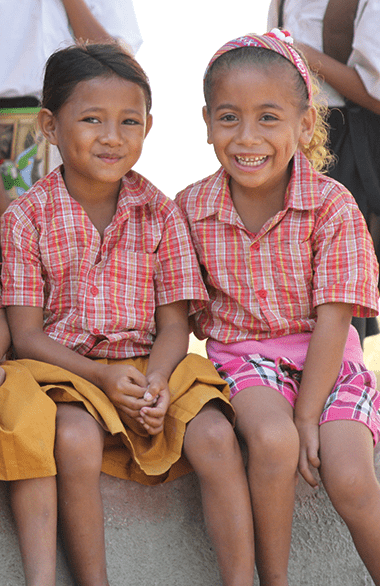 Self-determination is key to maintaining a sense of one's own dignity. People must have the opportunity to become architects of their own futures. They need to feel they have a voice. When a person has control over their own life, it means they can have the confidence to make choices that matter to them.
Being able to make decisions is profoundly important for a person's healing, motivation, and their ability to gain equal access to possibilities in life. It plays an enormous role in psychological health and wellbeing.
At Mary MacKillop Today, when we plan our Learning for Life programs, we do it with our core values in mind. We ask ourselves – will this help people in the way they need it? Will this empower people to realise their aspirations?
Empathy, listening, and understanding are essential to develop successful, life-changing programs. It's not about saying to people, 'This is what we think you need.' Participants in the community understand their culture best and are therefore in the best place to know what works. For that reason, so much of the work we do is designed in partnership with communities to ensure it is relevant. We are driven by the solutions that people decide for themselves. This approach is the heart of what shapes our development work around the world.
I think of Mary and how she responded to the reality of her time. She saw children without access to education, and she felt it was their right. She and the Sisters of St Joseph took a very difficult, uncomfortable path to ensure this right was met.
Education is an essential pathway out of poverty. It uplifts people with the knowledge, skills, and tools to become self-reliant – which ultimately paves the way for people to fulfil their rights.
Mary saw the power of education to provide people with choice and control over their circumstances. This motivated her to help children get the schooling they needed to access opportunities in life and create brighter futures for themselves.
And today, you are helping us continue Mary's legacy by supporting people facing disadvantage to stand up and have a say in their own lives – as individuals, families, and communities. Thank you!