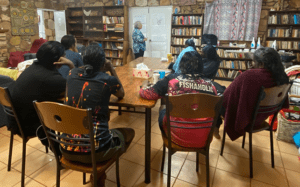 Thanks to the generosity of people like you, our Community Grants can support grassroots initiatives focused on the unique needs of communities. One such program, 'Helping Families Heal – Make a Change' is run by Sister Alma and clinical psychologist, Christabel Chamarette.
The program is based in a remote, predominantly Aboriginal community in the Kimberley where people are living with high levels of unemployment, poverty, incarceration, and domestic violence. There is a lot of hurt. First Nations people have experienced generations of trauma from the impact of colonisation. Facilitating healing is an essential step for this community to move forward and thrive.
Sr Alma and Christabel walk alongside people in their journey towards healing. They have set up a safe, welcoming place for those seeking to heal from their childhood trauma by providing both one-on-one and group counselling, workshops, and events.
Sr Alma shares:
"Healing childhood trauma is so important because it affects us into adulthood. The whole point of the healing process is to truly feel the feelings and confront them. We make sure to talk to someone as a person, not talking down to them but, instead, showing them compassion and patience.

I've been out here a long time, so people know me well enough to come to me and say, 'I need help.' It's only when they decide this for themselves that they make themselves available to be comforted. One man who had been incarcerated started going to our individual sessions. Over time, he came to a place where he could reflect on his childhood and process it. He told me, 'That was good, Sister.'

You can tell the difference as people change. At first, they are usually tight muscled, bent forward with heads down. As they get more confident, their face and body relax, the smile comes easier, and there's an openness to the person. They say things like, 'I feel lighter.' Because they're not carrying that load anymore. It's a therapeutic process.

It is so rewarding to see people coming alive. Sharing in the lightbulb moments."
Those who come to the sessions can work towards becoming emotionally stronger, more articulate, and skilled in calming conflict situations. It puts them in a better position to return to the work environment, care for their families, get involved in their community, and keep themselves safe. Taking this process into their own hands and deciding to make such important changes in their lives is a wonderful way for people to reclaim their dignity.
Thank you for supporting this incredible program!
"From my sessions, I now know how to heal myself, take care of myself, and recognise where the triggers come from. My family relationships are less aggressive, and we can now talk about issues and what is happening. I feel calmer and am happier." – Program participant