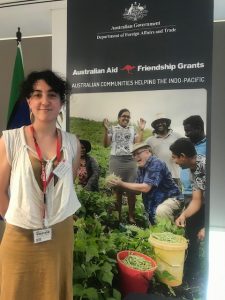 Support from the Australian Government through a Australian Aid: Friendship Grant is boosting efforts to support people with disability in remote villages in northern Papua New Guinea (PNG).  Mary MacKillop Today, in partnership with local NGO, Callan Vanimo Inclusive Education Resource Centre, will roll out the Inclusive Communities Program in five new locations. Volunteers that have already been trained and mentored under this program are now designing and delivering community-based rehabilitation (CBR) and disability inclusion awareness activities in their own communities. Over 20 new volunteers will now be trained to run CBR and case management activities to more remotely located communities across the Vanimo region, thanks to the Australian Aid funding. . Their work will increase the number of people with disability effectively accessing inclusive health and education services. The newly trained volunteers will also increase community awareness on the rights of people with disability.
Thank you to the Australian Government and all Mary MacKillop Today's donors and supporters in Australia and around the world for your invaluable support and generosity.
Enabling partnerships with local communities to help transform lives.
Mary MacKillop Today is supported by the Australian Government through an Australian Aid: Friendship Grant.