Project Overview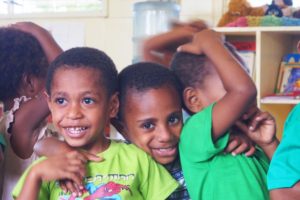 Through our local partner, Buk Bilong Pikinini, the Komuniti Early Learning Program aims to provide children in remote communities with access to high quality and effective early childhood education, thereby increasing their school readiness and early literacy skills. The program will have a particular focus on ensuring the inclusion of children with disability in community-based education programs. Formal education was only established relatively recently in many parts of Papua New Guinea, and its reach is limited. In fact, the average level of formal education for adults in PNG is only 3.9 years and today only one in three children complete their basic education.
Activities
Training for community-based early childhood educators and volunteers
Ongoing mentoring and monitoring, ensuring the participating children are receiving a high quality and effective education
Provision of vital books and supplementary educational resources to remote communities, including the;

Production and distribution of locally developed early childhood readers that focus on disability inclusive education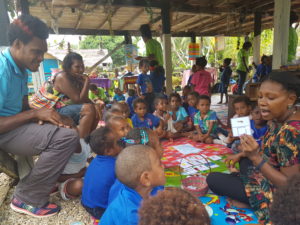 Impact
Community-based early childhood instructors and volunteers have increased knowledge of early childhood education, child rights and the delivery of the Komuniti early learning program
Children aged between 4 and 6 in remote communities demonstrate improved early literacy skills and school readiness
Community members, in particular parents, increase their understanding of the importance of early childhood education children
Elliuda's Story
Elliuda lives in a small coastal village in the Vanimo region of Papua New Guinea. Elliuda's 6 year old son, Tomas, recently started elementary school after spending 2 years participating in the early learning program supported by Mary MacKillop Today. A proud dad, Elliuda beamed as he spoke of Tomas' progress from his pre-school into elementary school.
"As a father, I have been keenly observing my son's academic progress over the year, especially his bridge from kindergarten to elementary stage of education. I found Tomas to be always curious about learning new things. He is now obsessed with his school work to a point where he does his study every night by redoing all the work they do in class during the day."
Elliuda believes his son's eagerness to learn stems from his days at the community early learning program.
"I am thankful he was motivated at a very early age and when he is exposed to new things, he can never stop learning. Early childhood programs are very important for small children. When a small child is encouraged, motivated and trained at an early stage in life, a whole new world of opportunity is opened up for them. When they enjoy school every day, nothing in the world will stop them from pursing their dreams."
Exposure to the life-changing impact of early childhood education has also led Elliuda to understand what an important role he can play as Tomas' dad.
"As a father I am proud of my son but I will never let a day pass by without opening his school book, encouraging him and being there for him."
How to help
Donate: $935 could provide a resource kit with books and supplementary education resources to support the implementation of the community-based early learning program
Pray: Pray for the children of Papua New Guinea that they may have the opportunity to reach their full potential
Act: Donate to Mary MacKillop Today and ensure that children across PNG have access to good quality early education