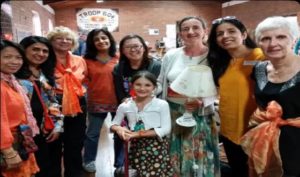 Consider engaging your local parish, school or community with the following fundraising initiatives:
Garage sale or book sale
Handicrafts stall
High tea at your local parish or community group
Trivia night
Cricket day
Open garden
Presentation at your local nursing home
School fun-run
Cake stall
Steps to success:
Let us know your event time & date by emailing us at:

[email protected]

Gain permission in writing from all groups you are dealing with
Check your state's fundraising legislation and any permits or insurances required – Mary MacKillop Today office can provide public liability insurance for some events
Set a target, location and date
Ask volunteers to help, borrow equipment where possible and hold functions in free venues
Get your friends on board – friends and neighbours are often willing and able to help
Get the word out – make sure you tell as many people as possible – word of mouth and digital media are great ways of building a successful event.
Let us know about how your small event is progressing at

[email protected]

Collecting the funds and contact us by telephone on 02 8912 2777 or email

[email protected]

We can add your stories of support on our website blog.
Your support will make an enormous difference for our brothers and sisters in Timor-Leste, Peru, Papua New Guinea, Fiji, and Australia.