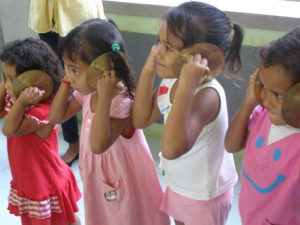 A partnership between your company, trust or foundation and Mary MacKillop Today will allow your passion for dignity for those we support throughout the world to be realised.
Your organisation could provide strategic investment, advice, skills, knowledge and new networks for Mary MacKillop Today to bring fullness of life for thousands through the gift of education, health, financial inclusion and livelihoods.
Over the past two decades, Mary MacKillop Today has trained over 2000 teachers in Timor-Leste, and allowed thousands of families to benefit from providing women with business and marketing skills in Peru. In 2016 Mary MacKillop Today (then MMI), reconnected with the Josephite tradition in Papua New Guinea, providing support in health and education programs to remote communities.
Your commitment to partner with Mary MacKillop Today will help us continue this vital work, and provide opportunities to flourish for those in the most remote communities in the world.
Interested in becoming a partner? Please contact Mary MacKillop Today's Supporter Relations Manager on 02 8912 2777 or via email at [email protected]. We currently have a list of projects that need urgent support. Click here for project information.
Workplace Giving: find out more about our Workplace Giving program for your organisation. For queries on setting up your Workplace Giving Program contact our office on 02 8912 2777 or [email protected].
Collect Stamps: your organisation can provide valuable resources through our 'stamp collecting initiative'. A great way to engage your staff. To find out more contact our office on 02 8912 2777 or [email protected].