This Christmas your kind gift will enable us to continue our vital Mobile Kindy program in Fiji.
Tadu is one of the passionate teachers in our Mobile Kindy program in Fiji. Tadu's young students live in remote farming communities, with no electricity, and with road conditions so poor that they are inaccessible by car.
To reach her students' homes, Tadu walks for kilometres – down steep hills and across narrow bridges. She makes this journey carrying a kit of school supplies – paint, pencils, markers and notepaper. She also carries fruit, sandwiches and milk for the children – sometimes even a tarpaulin to cover the ground if she'll be teaching outside.
Yet when Tadu speaks about teaching the children there, she lights up with joy.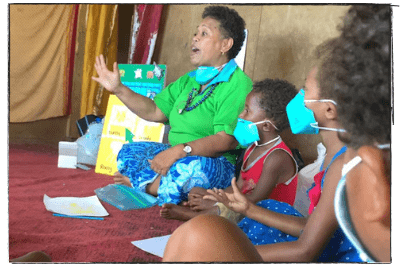 "Education is so important, especially in these communities," she says. "It develops the children's brain so that when they grow up, they know there is something that lies ahead of them, something that they can reach."


Tadu's excitement for teaching truly embodies the spirit of Mary MacKillop, and her passion to 'go where the need is greatest' – to some of the most remote and disadvantages communities in her country.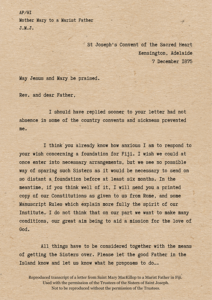 We currently have a funding shortfall for our Mobile Kindy program and we are asking for your support to enable this vital program to continue. In neighbouring Fiji a third of the population live below the poverty line, often in overcrowded squatter settlements or in remote farming communities where a lack of roads and infrastructure means they are cut off from education and health services.
Mary MacKillop Today has a long history or helping vulnerable Fijian communities to improve their lives through education. In 1857, Mary MacKillop's letters discuss an invitation from a Priest working in the Pacific to send Sisters to Fiji.
Mary's letters show her interest and openness to this missionary work but limitations on the order at the time meant the sisters were unable to travel. Instead, Mary invited Sisters from the Pacific to be trained in Australia (click here to read letter).
With your support, Mary's legacy continues in Fiji to include a range of community needs, providing crucial education such as women's leadership programs, and hygiene and disaster risk reduction training that have helped strengthen and empower these communities.
Please donate now to help continue Mary's legacy and help bring quality early childhood education services to some of Fiji's most disadvantaged and vulnerable families and children.