Apply for a Community Grant
APPLICATIONS FOR THE 2021 ROUND OF THE COMMUNITY GRANTS PROGRAM ARE CLOSED. 
Mary MacKillop Today is seeking applications for community-based projects that:
Increase aspiration and confidence to undertake learning (e.g. mentoring, bridging or transitional education)
Improve access to education or learning opportunities for people who are vulnerable (e.g. by supporting learning opportunities in remote communities, enabling access to technology, breaking down learning barriers for people with disability)
Improve the quality of education or learning opportunities available to people who are vulnerable (e.g. training for parents or caregivers, development of high-quality teaching and learning resources, ensuring learning environments are culturally and linguistically inclusive)
Provide learning opportunities which empower people to strengthen skills for self-sufficiency including through improved financial inclusion, improved participation in communities and improved wellbeing (e.g. transition to work projects, health literacy and health promotion, financial literacy or leadership activities).
The 2021 round of the Community Grants are open to all external applicants who meet the eligibility criteria.
Please ensure you have read the Mary MacKillop Today Community Grants Guidelines 2021 before submitting your application. Please also ensure you have read and agree to abide by the Policies outlined in the Guidelines in relation to your project.
This 2021 Community Grants Application Drafting Template has been designed to assist you to draft your responses collaboratively offline before completing the online Application form. Please download for a Word version of the text-based questions in the application. You can then cut/paste the relevant content into the application when you are ready to submit.
Community Grant applications will be accepted between 9am Monday 10 August and 5pm Monday 14 September 2020. Late submissions will NOT be considered.
To submit an online application, please access the link HERE. (alternatively, you may request a Word version of the Application Form from Chrys).
For more information, or to discuss your project proposal or idea, or to request a word version of the Application Form please contact Chrys on 0482 782 099, or [email protected].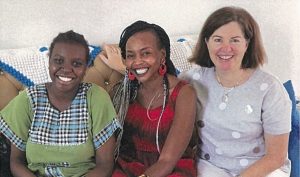 Akuot, a young mentee from South Sudan, her mother Regina, and her mentor, Kate. Akuot and Kate are part of the Refugee Support Mentor program based in NSW.